新闻资讯
---
以诚信、科技、智慧为可持续发展动力,以务实、落实、求实的企业精神服务于社会
Changxing County deputy secretary of the county Party Committee, county governor Zhou Weibing and his delegation inspected Zhejiang Jiali
---


On the morning of May 27, 2016, Zhou Weibing, deputy secretary of the County Party Committee and county governor of Changxing County, came to our company for investigation and inspection, accompanied by the company's chairman Zhang Hanzhang, Executive Vice President Li Zhiming and other leaders, to inspect the company's various plants.

Mr. Zhou and his party successively visited our company's metalworking workshop, spraying workshop, assembly workshop, finished product inspection workshop and product exhibition hall, and learned about the company's personnel configuration and the entire production process from spare parts to finished vehicle products in detail, and affirmed and assured the company's personnel management, safe production and product quality.

After close contact with our products and product lines, the product concept of "strengthening" - "innovation, science and technology, environmental protection" and the company's strong research and development strength have also been recognized and praised by the Zhou County chief line.

Zhou County magistrate carefully listened to Chairman Zhang Hanzhang's introduction of the warehousing logistics equipment industry prospects and the future development plan of "Afterpower", and Zhou County Magistrate fully affirmed the achievements and development speed achieved in the industry since the establishment of "Afterpower".

At the end of the visit, Zhou county governor praised the "afterpower" plant and advanced production technology again, and put forward higher requirements for the future development of "Afterpower", "pursuing high-quality products, attaching importance to environmental protection, service first, and developing to high-end intelligent equipment".
◆ Mr. Zhou had a cordial conversation with the company leaders
  ◆ Chairman Zhang Hanzhang introduced the general situation of the workshop to Governor Zhou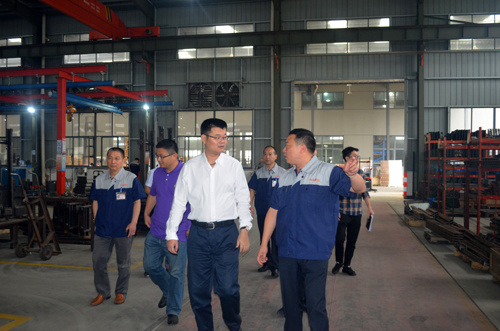 ◆ Chairman Zhang Hanzhang introduced the products and gave a demonstration